Off the lip
Hey Groms, time to get your surf on!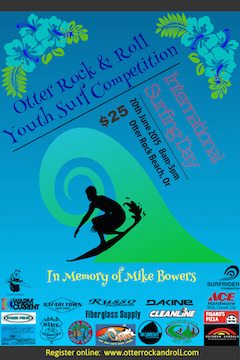 The Otter Rock 'n' Roll youth surfing competition will take place on Saturday June 20th at Otter Rock/Devil's Punchbowl State Park from 8am-4pm. This event recognizes International Surfing Day and celebrates the sport of surfing and helps raise awareness about issues facing our oceans, waves and beaches. The event is an 18 and under surf contest open to all surfers including beginners, a Beach Cleanup Challenge, and family friendly music and other fun for beach enthusiasts.
Event pre-registration is $25 at www.otterrockandroll.com. Space is limited so sign up early to reserve your spot! Day of Beach registration is $35 and closes at 8am sharp the day of the event. Preregistration closes June 18th at noon.
There will be beach games and activities throughout the day including a special beach cleanup challenge where youth can compete for different prizes through various stewardship activities.
This year's Otter Rock 'n' Roll is in memory of Mike Bowers a Newport local who passed away earlier this year. Mike will be remember for many things but we especially would like to honor his dedication to helping others especially youth in need and for the local community organizations that he helped for many past years and in many ways.
Water Quality Advisories
Advisory Alerts: No poo for you.
State officials advise that the status of water contact advisories at beaches is subject to change. For the most recent information on advisories, please visit the Beach Monitoring Program website or call 971-673-0400, or 877-290-6767 toll-free.
Visit The Green Room for more info on Oregon's coastal waters testing program.
OregonSurf.com Fan Club
Support the site you so dearly love by sporting a hoody, t-shirt, or an embroidered beanie. Stickers too. New "earthier" t-shirt color option! Shop online now. Also available at Gorge Performance in Portland.