Off the lip
I'd totally go, but there's that chance of showers....
S WIND 20 TO 25 KT WITH GUSTS TO 35 KT. COMBINED SEAS
15 FT DOMINANT PERIOD 16 SECONDS...BUILDING TO 20 FT DOMINANT
PERIOD 15 SECONDS IN THE AFTERNOON. CHANCE OF SHOWERS.
2014 Cape Kiwanda Longboard Classic in da books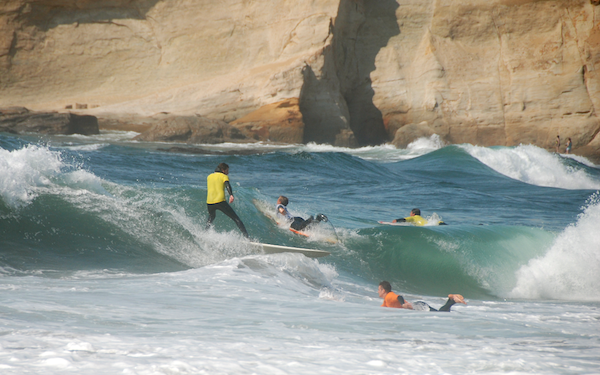 The Cape Kiwanda Longboard Classic was a hellava fun time! The crew at Moment Surf know how to put on a contest! Less than stellar surf conditions didn't spoil the fun, and the two+ day comp unfolded without a hitch with parties, music, silent auction, campfires, good food and a positive vibe all weekend. There were several photographers on the beach, so I'm sure the surfing was well documented. Here's an album on the Gorge Facebook page from a few heats both Saturday and Sunday, including awards ceremoy podium shots. Final results are forthcoming. As is the skate park. Not sure if the fundraising goal has been met yet, but we sure put a dent in it this weekend.
Up next on October 3-5th is the Surfrider Clean Water Classic in Westport, WA. The Clean Water Classic weekend includes not only great surfing (which includes shortboards, longboards and SUPs), but also live music, movie showings, a vendor village, silent auction and raffle.
The CWC is a fundraiser for the Pacific Northwest Chapters of the Surfrider Foundation. A grassroots environmental organization dedicated to the protection and enjoyment of the worlds oceans, waves and beaches. To learn more about the Surfrider foundation or find a chapter in your area please visit www.surfrider.org. The event will also include a Kid's Surf Camp for area youth run by Warm Current, a non-profit organization whose mission is to teach, inspire and support underserved communities and youth through surfing. To assist Warm Current in providing access to ocean recreation for kids in WA, OR and around the world, contest attendees are asked to bring new or used wetsuits for donation to the event. www.warmcurrent.org.
Nice little SUP session from Otter Rock
Otter Rock OR, surf from Pat Clifford on Vimeo.
Water Quality Advisories
Advisory Alerts: No poo for you.
State officials advise that the status of water contact advisories at beaches is subject to change. For the most recent information on advisories, please visit the Beach Monitoring Program website or call 971-673-0400, or 877-290-6767 toll-free.
Visit The Green Room for more info on Oregon's coastal waters testing program.
OregonSurf.com Fan Club
Support the site you so dearly love by sporting a hoody, t-shirt, or an embroidered beanie. Stickers too. New "earthier" t-shirt color option! Shop online now. Also available at Gorge Performance in Portland.