Off the lip
BELLA VITA Portland Premiere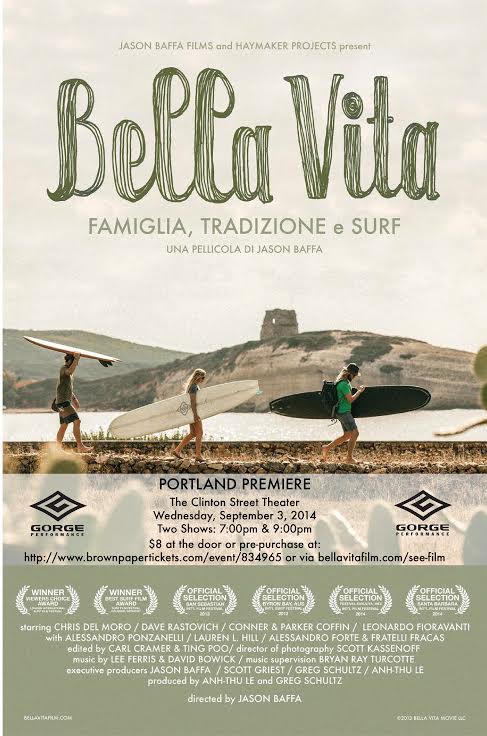 Bella Vita by Jason Baffa Films presented by Gorge Performance
When: Wednesday. September 3, 2014
Where: The Clinton Street Theater
Time: (two shows) 7:00pm / 9:00pm
Tickets: $8 - advance purchase
Synopsis: Filmmaker Jason Baffa (One California Day, Singlefin: Yellow and One Beach) chronicles Chris Del Moro on a pilgrimage back to his ancestral homeland with elite professional surfers Dave Rastovich, Lauren Lyndsey Hill, Conner & Parker Coffin and Italian stand-outs Alessandro Ponzanelli and Leonardo Fioravanti as they explore the burgeoning surf culture blossoming amongst the Mediterranean's oldest and cherished traditions.
A visual epic captured in stunning 35mm, Bella Vita is an intimate and powerful journey of self-discovery, seeped in culture, tradition, and passion - where family comes first.
Watch the trailer, and we'll see you Sept 3rd for the whole enchilada!
Water Quality Advisories
Advisory Alerts: No poo for you.
State officials advise that the status of water contact advisories at beaches is subject to change. For the most recent information on advisories, please visit the Beach Monitoring Program website or call 971-673-0400, or 877-290-6767 toll-free.
Visit The Green Room for more info on Oregon's coastal waters testing program.
OregonSurf.com Fan Club
Support the site you so dearly love by sporting a hoody, t-shirt, or an embroidered beanie. Stickers too. New "earthier" t-shirt color option! Shop online now. Also available at Gorge Performance in Portland.