Off the lip
Shaping the Northwest event returns
Art, music, food, boards, beer, photography, silent auction... all good reasons to gather the tribe! This fun event for our local surf community not only features our local board builders, it raises funds for two non-profits Warm Current and Waves for Development.
Date: Friday, April 10th
Time: 7:00pm - 10:00pm
Location: EVO Portland - 200 SE MLK Blvd.
Cost: $10 donation at the door or pre-order tickets here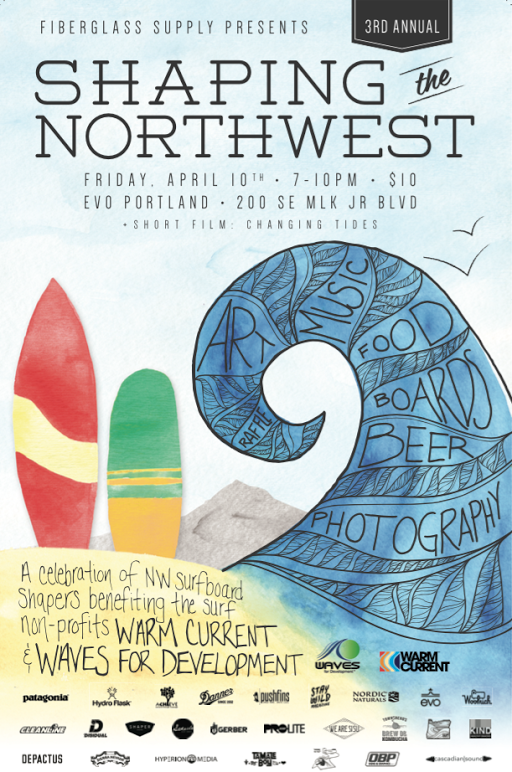 Time to get your push on, 'cause the P-Town Throwdown is back!

This will be the 11th Anniversary of the legendary Mt.Tabor to Sellwood Park Skateboard Race presented by Eastside Longboards.
This event is a charitable food drive for OREGON FOOD BANK to help the hungry in Portland. They collected 1,800+ pounds of food last year. Going for ONE TON this year! Registration and Food collection will be at the lower parking lot on the North side of Mt.Tabor Park. (Next to the bathrooms and basketball courts). Raffle tickets for prizes will be given only to RACERS who have signed the liability waiver. Odds are high of winning some killer prizes! But even if you don't race, please stop by and make a food donation. We'd love to see them reach their 1-Ton goal!
On Facebook? Join the event for more info and updates!
Water Quality Advisories
Advisory Alerts: No poo for you.
State officials advise that the status of water contact advisories at beaches is subject to change. For the most recent information on advisories, please visit the Beach Monitoring Program website or call 971-673-0400, or 877-290-6767 toll-free.
Visit The Green Room for more info on Oregon's coastal waters testing program.
OregonSurf.com Fan Club
Support the site you so dearly love by sporting a hoody, t-shirt, or an embroidered beanie. Stickers too. New "earthier" t-shirt color option! Shop online now. Also available at Gorge Performance in Portland.